💕 Special Gift For You 💕 50% OFF! - JOIN NOW!
Apr 19, 2014
0
Lucy Li,
Matt Ice
Delectable Lucy Li lays patiently as she waits for her man Matt Ice to oil up his hands and commence a massage that quickly gets sensual. His hands keep getting lower until he is gripping the lushness of her ass, giving her a hint at his true sensual intentions.
Turning onto her back, Lucy lies quietly as her beau slicks up her generous breasts and flat belly. When his fingers slip into her juicy slit, though, she knows that the relaxing part is over.
Matt kicks things off with an enthusiastic pussy licking, burying his face in Lucy's soft shaved twat and putting his tongue to work as she whimpers her approval. Lucy is happy to repay the favor, taking her time and using her small hands and warm mouth to deliver a slow sexy blowjob that leaves her man rock hard and eager for more.
When she can't wait any longer to fill her eager twat, Lucy rises over her man and slowly mounts him cowgirl style. Her thrusts start off slow as she finds her rhythm, but soon she is riding her man like a pro and moving so fast that her big boobs bounce.
Next, the couple changes things up so that Lucy is bent over the massage table while her beau delivers a hard pussy pounding from behind. Her dripping snatch is at the perfect height for Matt as he drives in and out of her tight warmth with long sure strokes.
As her climax gets closer, Lucy flips over onto her back and lifts one leg up onto her beau's shoulder to totally open her needy fuck hole for his pounding thrusts. He knows just how to hit the right spot to leave her body pulsing as she screams her pleasure.
Now that Lucy has reached her climax, Matt can't hold back any longer. After a few final pumps in her tight sheath he pulls out at the last second and releases his cum all over her waiting belly in a love shower that leaves Lucy happy and sated.
Related Photos
Related Videos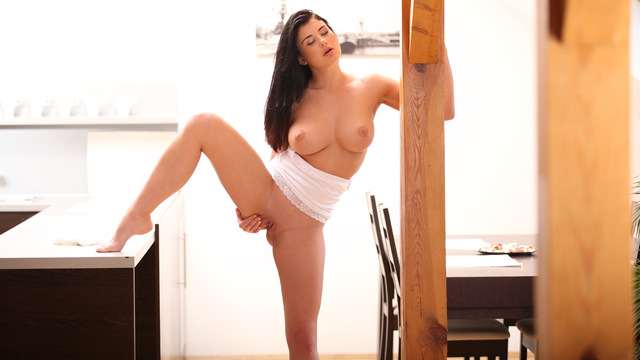 Thinking Of You - S10:E21
May 11, 2014
5
80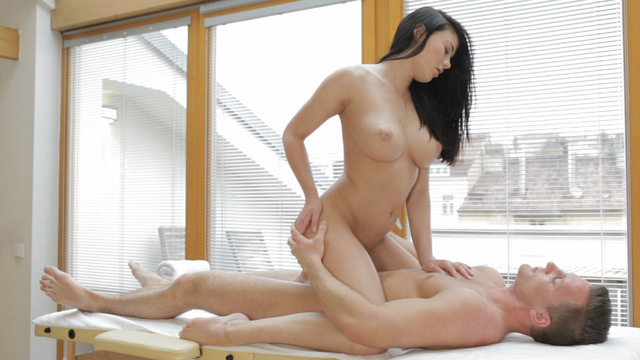 Full Body Massage - S10:E7
Apr 15, 2014
6
408