Blog Categories
Favors, Friday 11/23
Posted - November 22, 2012
No Comments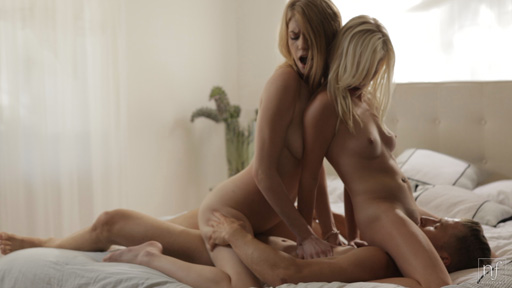 Imagine if two exquisitely beautiful girls decided one day that they were going to share the same man and then put their plan into action. If that thought makes you hot, then you will absolutely love Favors, our next upcoming feature.
We brought beautiful blonde Elaina Rae back and partnered her with newcomer Allie James for this erotic scene. If you look at the storyboard I posted yesterday you'll see that we wanted to have a ton of intimate content with all three participants actively involved. Look at this screenshot and judge for yourself how well we accomplished our goal.
Favors will be released tomorrow, November 23, so be sure to check it out! In the meantime, I just wanted to say happy Thanksgiving to those of you who are celebrating today. We are incredibly grateful to all of our members for giving us the means to keep doing what we love: Bringing you exceptional, erotic movies.