In Bloom With Felicity Jade, Wednesday 11/21
Posted - November 19, 2012
No Comments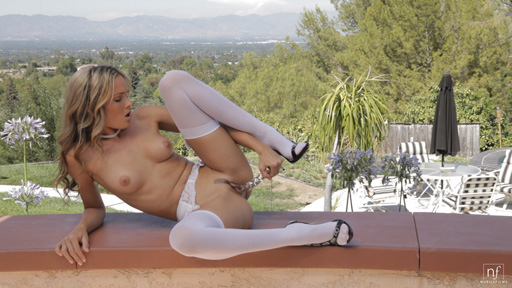 Filming a solo scene is always an interesting and fun experience. When there's no one else to interact with, it's easy for the girls to slip into their familiar habits and give us an intimate glimpse at something more genuine than the couples movies.
Our next upcoming movie, In Bloom, takes place outside with some gorgeous California scenery, but that natural beauty simply can't compete with the incredible Felicity Jade as she gets herself off in the afternoon sunlight. I love the way Felicity just lets go and pleasures herself with no inhibitions at all in this one. She holds absolutely nothing back when she shoves her dildo into her eager pussy and cums like crazy.
If you want to see real passion, then be sure to check out In Bloom when it is released on Wednesday, November 21. You won't be disappointed!